Tien Beach
of Koh Larn
Tien Beach of Koh Larn
Tien Beach is a mid sized beach here on the island. In as far as blue ocean and white sand this is the best. This beach has many restaurants an souvenir shops that are a little more upscale than at the other beaches, but still, has the flavor of Thailand. From what I have been told, this is a year round beach, with little fluctuation of tourist from season to season. The atmosphere here, well seems very relaxed and quiet. The people that visit here seem to come in smaller groups and there for not as much chatter that you would find amongst larger groups. Tien Beach is accessible by speed boat, charter and local taxi. When coming by taxi there is a short walk of about five minutes from the drop off point, there are no roads to this beach.
Kyacks are available at most beaches on Koh Larn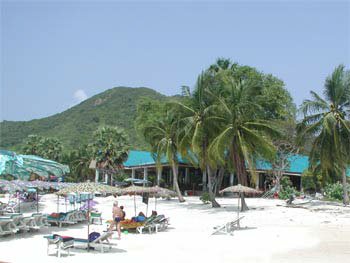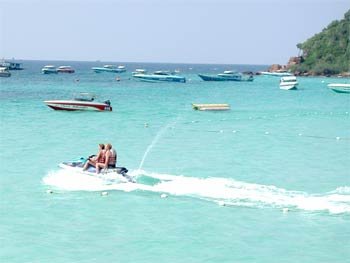 Very white sand on this beach. Bring your sunglasses and sunblock.
Like I said blue and I mean blue ocean. This water here is as clear and blue as it gets. Put that with the clean white sand and plenty of sun, what more could a beach gower want.
One of the smaller restaurants along the beach, nothing fancy but a nice place to go.
Some quick snap shots from Ban Ampur
The old foot bridge from Samae Beach to Tien Beach, now days it is a modern cement foot bridge.
Thai Fishing Boat made into a bungalow, if you ever wanted to stay the night on a boat this is your chance.
A Thai fishing boat that was left in this location, over time it deteriorated into nothing...
Thank you for visiting my website, and have a nice day!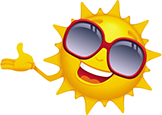 Tien Beach with very white sand.
Website design and photography by Russ