Restaurants and Resorts on Koh Larn
If you come to Koh Larn you may discover that it would be nice to stay a few nights. I personally liked it so much that I ended up staying for two years, back in 2002-2004. Back then there were only a hand full of resorts on Koh Larn, and some of those didn't even have full time electricity. Most rooms lacked air conditioning and hot water as well, so much has changed since then. Now there are at least ten or twenty times the number of places to stay. Almost all rooms available on Koh Larn have both air conditioning and hot water these days. The number of restaurants has exploded in recent years and now many of them have wonderful ocean views.
Restaurants and Resorts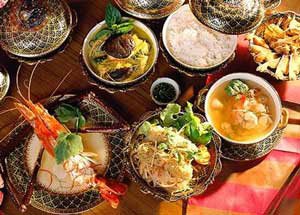 You can not miss this one, it is one of the main features you see as the ferry boat approaches the main village of Koh Larn. Very nicely decorated through out and very comfortable rooms. There is a large deck for guest to enjoy in the evenings with an ocean view. This is one of the closest of resorts to the main pier, and village dinner houses. Suntosa maintains a high customer rating. More
Suntosa Resort
Phone;
038-434002
090-3922-037
Click thumbnails for larger view
Sea Beach Guest House has three locations to choose from. One of them is only forty meters from the pier in Naban. Rooms start at 900B week days during low season.
Sea Beach Guest house
Phone 081-810-31
Click thumbnails for larger view
Rimtalay Resort sits along the shore facing Pattaya and Jomtien. Bungalow style rooms of large and small, there are also row style rooms. There is even a house for rent if you are in a group or just have that need for extra space. Ocean views from nice patios are especially nice in the evening. The drawback is the distance to the main village, it would be a great walk during the day but not at night because of dogs. Room Rates start at 1,000B during the week.
Sea Beach Guest house
Phone 081-810-31
Click thumbnails for larger view
Lareena Resort is just on the left as you are approaching the island on the ferry. A very well appointed resort, with tasteful decor in all rooms. If you want to be close to the village and have beautiful views of Jomtien then this is the place for you. People rave about the restaurants food and you don't have to be a guest to dine there. There are relax areas where you can lay back and read or socialize. All rooms have air con, hot water and free WIFI. This is the kind of place to that whispers relax. The only downside is the sound of the ferry boats coming and going, but this is only during the day, and really some people enjoy watching the boats come and go.
Click thumbnails for larger view
Lareena Resort
Phone;
081-637-4442
081-405-3956
Booncheun Resort
Booncheun Resort is situated next to the ocean with a nice view of Pattaya and Jomtien.
Booncheun resort
Phone;
086-8494935
081-4352697
038-361877
Click thumbnails for larger view
Choosri Resort Phone; 081-9458824 or 038-434035
Sin U Rai Resort Koh Larn
Sin U Rai Resort
Phone;
081-744-2926
081-861-6707
086-000-6864
Monday-Friday The room rate is 1,000 Baht/night Weekend and holiday The room rate is 1,500 Baht/night for 2 persons (Double bedroom or Twin bedroom) (charge 200 baht/person for extra persons)
Click thumbnails for larger view
Xanadu Resort of Samae Beach
Located just a few steps from Samae Beach waters near the southern end. A very colorful place with rooms and exteriors painted in many bright contrasting colors. This is a great daytime place to be, the rooms are located just far enough to avoid the noise if you like to have an afternoon nap. Samae beach is well known for stunning sunsets so If you love beautiful sunsets then this is the place to be. There is dining on their beach view balcony where you can watch the sunset. You can then top the evening off in their beach side cocktail lounge. Xanadu has a small fleet of shuttles for free pick up and baggage handling from Naban pier. All rooms have safes and the rooms use secure electronic key card entry system. Security cameras are located on the grounds as well as security persons. The price per room is 2,500B includes breakfast, WIFI, and shuttle services. My advice is to book ahead using Agoda, Booking.com or Trip Adviser, especially on weekends and holidays.
Xanadu Resort
Phone;
081-996-0757
Also available is an airconditioned conference hall that can accommodate 200 persons. Photo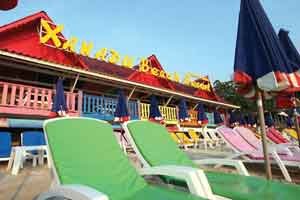 The Lighthouse on Koh Larn
Located midway between Samae Beach and Naban Village. Artistically decorated each room has a different theme. Beautiful well kept grounds makes for a very relaxing experience.
The Light House
Phone;
080-832-6863
087-600-9078
Click for larger view ------->>
Baan Rae of Koh Larn
Located half way between the main village and Samae Beach. Pretty basic furnishings but very clean and well kept, this isn't a fancy place, that said the prices are not fancy either. Rooms start at 800B and this includes hot water and air con. A small restaurant, again nothing fancy but then again nor are the prices. Free WIFI provided in common areas. If your on a budget then this is your best bang for the buck place to stay on Koh Larn.
Baan Rae Resort of Koh Larn
Phone;
090-738-9473
09.00 am - 17.00 pm
WIFI available in common areas near the check in counter
Lomtalay of Tawaen Beach
Located near the north end of Tawaen Beach, just steps from the water. Tawaen Beach is by far the most popular beach on Koh Larn receiving around three thousand visitors a day. This beach boast the clearest waters and the finest white sand of all the beaches on Koh Larn. Tawaen Beach also has the most restaurants of all the other beaches. Tawaen Beach is also served by regular ferry boat at thirty Bahts per person.
Lomtalay of Tawaen Beach
Phone;
084-868-3252
082-470-0992
Barberry of Tawaen Beach
Also located near the north end of Tawaen Beach, just a few meters fro the water. Nice comfortable surroundings. These rooms are brightly colored.
Barberry of Tawaen Beach
Phone;
084-868-3252
Koh Larn Riviera Resort
Located about 500 meters north of Na Baan facing Pattaya Beach. Eight nicely decorated rooms with wonderful night views of the Pattaya coast line. Free oriental or continental breakfast and free WIFI
Koh Larn Riviera
Phone;
084-657-4675
Feed Back
I need your help, your opinions and experiences good or bad can help me provide a better website for you and everyone else. Thank you.
Dave from Manchester 2016-02-24
I can recommend the Hard Tien resort at the very end of Tien Beach .. at 1,200 it was cheaper than some of the 'urban' concrete structures near Naban pier... and it gave direclty on the beach, although no wi-fi and a grumpy manager!

Dave also writes: another very good cheap option is Ao-Na Resort on 081 4445209 . It is close to Na-Ban pier on the hill road to Samae on the right ... it says 800 baht on the wall, and i got a motorbike included in this price, big room too!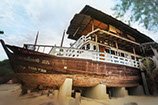 Click photo for larger view
<----
Thank you for your feedback Dave, and if I am not mistaken
those are the fishing boats at the north end of the beach,
cleverly converted into rooms.
Thank you for visiting my website, and have a nice day!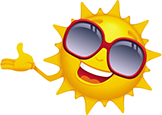 Photo taken from North Pattaya.
Website design and photography by Russ