Samae Beach
of Koh Larn
Samae Beach is my personal favorite of beaches here on Koh Larn. A white sandy beach with clear blue water and gentle breezes most of the time is what makes Samae Beach my number one choice. This beach is visited by 800 to 3000 people a day during the high season. Transportation to this beach from Na Ban pier is 50B. The cost of each beach chair is from 50 to 100B for all day. Food is readily available as there are many restaurants that line the entire beach, you can bring some of your own food along if you like. When you want something to eat or drink you can order right from your beach chair and have it brought to you. This beach measures 537 Meters long, so for those that need to do a Kilometer walk or jog just go from one end to the other and back and that is your 1K. There are plenty of activities here such as jet ski, banana boat and snorkeling.
There is a very nice, large Resort located just steps from the beach called Xanadu. They have free shuttle service from Naban Pier for their guest. They also have a conference hall that can accommodate 200 persons. See photo here
Samae Beach of Koh Larn
The wind farm on the hill overlooking Samae Beach. If you want to take in a nice view and have a good hike then this is the place.
Souvenir, clothing shops and beach side restaurants are located all along the beach. If you forgot to bring something along most likely you will be able to buy it here.
Sunsets on Samae Beach
If you love beautiful sunsets, then this is the place to be. This photo was taken from just outside the restaurant at the north end of the beach. The sunsets here change from one moment to another. During the monsoon season they become even more spectacular than this. I just love a beautiful sunset after a hard day at the beach, don't you.
Thai Fishing Boats in Bang Saray Beach, Thailand
Thank you for visiting my website, and have a nice day!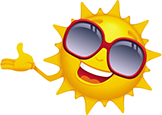 Beautiful sunsets from Samae Beach.